As our Christian Professional Network grows we will include information here for thriving eating disorder support groups happening around the world. In the meantime, here are a few places to get started: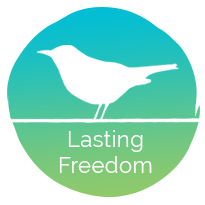 Lasting Freedom Online Support Program The world's first Christian online support program for eating and body image issues. Featuring weekly webinars, online small group experiences and a private networking site for members, it is designed to help you learn and grow in the context of authentic community. Webinar guests include top experts, authors, and everyday people passionate about helping you grow physically, emotionally, intellectually, relationally, and spiritually. View calendar of speakers and membership information at www.findingbalance.com/support.

New ID is a six-week Christian course being used by churches all over the world for those struggling with eating disorders. It brings the message that "freedom is possible." Helmed by founder Kim Hemsley, a former disordered eater with a passion for seeing people set free, the course is intentional about leading you toward the freedom you seek. Watch a video featuring Kim, learn how to sign up and/or become a course leader at www.newid.org.

Celebrate Recovery is a Christ-centered recovery program with meetings in most cities throughout the US. Based on a 12-step model, it features open groups as well as next-level "Steps" classes to get you out of isolation and plugged into a healing community. These groups are not necessarily "eating issues" groups, though some churches do make room for sub-types such as that. While we can't speak to the type of experience you might receive for eating issues in particular, we do feel good about the overall foundation and structure of what happens in CR groups. Click here to access the Celebrate Recovery Group Locator page.
 Do you know of a support group/program that you think should be on this page?
Click here for Submission Form