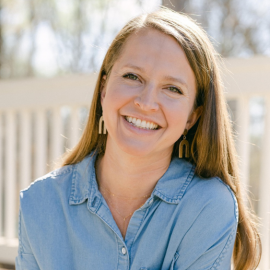 Kasey Shuler, ACSM Personal Trainer, BS Health Promotion and Behavior
Endorsed
Contact
One Sentence Treatment Philosophy
At The Joyful Health Co., we help Christians release the shame around their bodies, rest in God's grace for their health, restore the joy of food and movement, and reflect the Kingdom of eternal life.
Personal Statement of Faith
I believe I am a sinner who can't do good on my own, no matter how hard I try. I believe that Jesus is God's own Son, who came and lived a perfect life on earth in the sight of His Father, took my sins to die on the cross with Himself, and rose again into the resurrection hope that I now share with my brothers and sisters by faith in Christ alone.
Area(s) of Specialty
Ages Treated
Gender(s) Served
Unique Therapies/Offerings
Joyful Movement Personal Training
Online/Skype Sessions Available
Current License(s) and/or Certification(s)
License/Certification
State or Accrediting Agency
Personal Trainer
American College of Sports Medicine
Fitness Instructor
Revelation Wellness
Other Info
I meet with personal training clients 1:1 virtually or locally in Athens, Georgia to help them feel empowered in their bodies, encouraged in the Spirit, and energized for life through safe, individualized, and effective training programs.
I also facilitate a 12-week group coaching course once a year to help women ditch diet culture and rest in God's grace for their health using faith-based intuitive eating principles at joyfulhealth.co.
I'm looking forward to connecting with you!