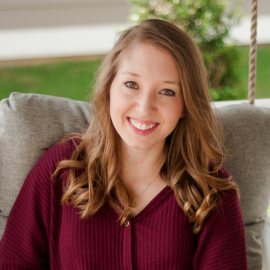 Brittany Braswell, MS, RDN, LD
Endorsed
Contact
One Sentence Treatment Philosophy
I provide Christ-centered nutrition and recovery coaching to women seeking freedom from disordered eating and negative body image.
Short Bio
I am a Registered Dietitian/Nutritionist (RDN) with a passion for helping women of all ages discover their God-given worth and value. I believe a person's identity cannot be based on his or her appearance or abilities, but can only be found in the Lord. As a non-diet dietitian I approach nutrition and wellness from a holistic standpoint, focusing on four main areas of health, including: physical, mental, spiritual, and emotional. My faith in the Lord and the freedom I've experienced from spiritual bondage has given me the desire to serve those who struggle with disordered eating and negative self-image.
Personal Statement of Faith
I believe in God the Father, Jesus the Son, and the Holy Spirit as the three-in-one trinity. Jesus came to earth, lived a perfect life, and died on the cross to demonstrate His great love for us and to save us from sin so that we can be with Him in Glory one day.
Area(s) of Specialty
EDNOS/OSFED/Sub-Threshold
Ages Treated
Gender(s) Served
Unique Therapies/Offerings
Small group coaching program for nutrition & recovery coaching: www.brittanybraswellrd.com/fedup
Online/Skype Sessions Available
Current License(s) and/or Certification(s)
License/Certification
State or Accrediting Agency
Registered Dietitian
Commission on Dietetic Registration
Licensed Dietitian
Alabama
Other Info
Fed Up with ED is a 6-month hybrid coaching program for women college age and older who are ready to break free from food guilt and body shame. This unique program offers 3 tiers of support based on your individual recovery needs and includes LIVE weekly coaching calls, on-demand video lessons, hands-on implementation tools, BONUS resources in every module, and a community of like-minded women to provide support and encouragement.
brittanybraswellrd.com/fedup