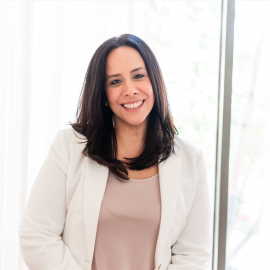 Angelica Gonzalez, LMHC
Endorsed
Contact
One Sentence Treatment Philosophy
I believe in individualizing the treatment that each client receives – meeting them where they are with faith and compassion – and providing them with the tools that will help them to successfully move forward in their lives; to dream and laugh again.
Short Bio
With more than a decade in the field of psychotherapy, Angelica is known for her work with adolescents, young adults, adults, families and groups. She began working in the field at Miami Children's Hospital in the psychiatric ward, and followed this with work in the field of trauma. Working in an inpatient treatment center she gained experience working with groups, families and individuals with eating disorders. Angelica established a private practice in 2013, working with creative and evidence-based practices including creative interventions, psychodrama, Cognitive Behavioral Therapy and Dialectical Behavioral Therapy. Most recently, she taught Group Therapy to Master's candidates at the University of Miami.
Personal Statement of Faith
My faith in Christ is the cornerstone of my life and work. It inspires me to help others find joy, peace and hope.
Area(s) of Specialty
EDNOS/OSFED/Sub-Threshold
Ages Treated
Gender(s) Served
Unique Therapies/Offerings
Psychodrama, creative therapies, Christian counseling. Therapy offered in English, Spanish and Portuguese.
Online/Skype Sessions Available
Schools Attended and Degrees Earned
BS
Florida State University
M.S.Ed in Mental Health Counseling
University of Miami
Current License(s) and/or Certification(s)
License/Certification
State or Accrediting Agency