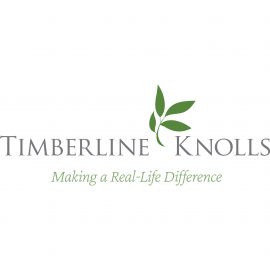 Timberline Knolls Treatment Center
Contact
Address:
40 Timberline Dr.
One Sentence Treatment Philosophy
Timberline Knolls' treatment philosophy is to help each woman take ownership of her own lifelong recovery journey by addressing the unique realities of her disease and by learning to respond to emotional adversity with healthy thoughts and actions.
Brief Program Overview
Timberline Knolls is a residential treatment center located on 43 beautiful acres just outside Chicago, offering a nurturing environment of recovery for women and girls ages 12 and older struggling to overcome eating disorders, substance abuse, mood disorders, trauma and co-occurring disorders. An adult partial hospitalization program, with housing options, is available for step down and for women to direct admit. By serving with uncompromising care, relentless compassion and an unconditional joyful spirit, we help our residents help themselves in their recovery
Christian Components Available
At Timberline Knolls, The Grace Program (TGP) exists to reunite and deepen a resident's connection to her Lord and Savior, Jesus Christ. Our individualized treatment includes incorporating faith and spiritual renewal through Christ's boundless love.
Participants in our Christian program are provided with a Bible and a "Souls Like Stars" workbook to use throughout their stay. They are paired with a licensed Christian Primary and Family Therapist. Every member of TGP is committed to integrating New Testament truth with recovery principles. Our therapists are passionate about the healing power of God and helping each resident to connect with His extraordinary grace, compassion, and mercy.
This connection is accomplished through participation in three life-changing groups. Each group is designed to approach growth and learning differently, through education, experience, or interaction. Combined, these groups provide the most complete picture of who God is and the importance of His involvement in recovery.
Christian Treatment Groups at Timberline Knolls:
* Soul Making is an interactive psychoeducational group committed to thoughtful exploration. The group endeavors to understand recovery topics such as identity, shame, boundaries, and forgiveness. Scripture and other faith teachings are used to discover the biblical viewpoint and God's heart on these issues. The intent is to increase knowledge and deepen faith.
*Sojourn is a process group that enables residents to share personal experiences as well as receive insight and encouragement from one another. It's a safe, nonjudgmental environment where residents can talk about their belief, or lack of belief, in God throughout their lives. Questions such as, "Where was God when I was being abused?" or, "Does He really forgive me for what I've done?" are spoken, respected, and addressed.
* Awakenings is an experiential group designed to help residents connect with their Heavenly Father on many levels. Activities and experiential exercises help wounded women and girls release to God their feelings of shame, inadequacy, guilt, anger, or rage. Art offers a nonverbal vehicle for them to express their adoration for the Lord, while music, song, and worship enable residents to feel the presence of the Holy Spirit and receive God's love.
Our Christian residents also attend weekly Celebrate Recovery 12-Step meetings where the focus is on God and His power to heal.
Women and girls can elect to meet privately with our TK chaplain, who is a board-certified chaplain and a doctor of ministry with a focus in dignity in patient-centered care. Residents can attend Sunday church services in the community of Lemont, IL. In addition, each Monday at noon, adult residents are invited to join Christian staff for the Grace meal. This is a time for all to enjoy food and faith with one another through prayer and conversation.
The goal of TGP is to restore the hope that has been lost, reconnect each resident with God, and reestablish a life of prayer, praise, and worship.
Level(s) of Care Offered
Ages Treated
Gender(s) Served
Eating Disorders Treated
Co-Occurring Disorders Treated
Campus Setting and Lodging
Nestled on 43 wooded acres, the Timberline Knolls campus has received recognition for its beauty from the American Institute of Landscape Architects. The tranquil grounds contain a lake and reflecting ponds, an historic art studio, comfortable contemporary residential facilities, and outdoor activity fields. Residents are housed in one of four residential lodges, (Oak, Maple, Pine and Willow), which are staffed 24 hours a day with nursing and clinical support staff. Timberline Knolls also employs on-campus security staff 24 hours a day to protect the safety and privacy of both residents and staff.
Unique Therapy Components
Art therapy, yoga and dance/movement therapy.
Insurance Accepted
Health Smart Preferred Care
Certification and Accreditation
The Joint Commission, Better Business Bureau
Other Info
OTHER INSURANCE ACCEPTED: ComPsych, Health Alliance, Healthlink, Optum